THÉÂTRE | La Machine de Turing | 7:30PM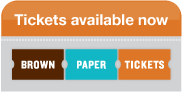 ÉVÈNEMENT REPORTÉ À UNE DATE ULTERIEURE
Auteur : Benoit Solès
Metteur en scène : Tristan Petitgirard
Un pièce Atelier Théâtre Actuel
L'incroyable destin d'Alan Turing, le mathématicien anglais qui a brisé le code secret de l'Enigma allemande pendant la Seconde Guerre mondiale.
Turing a construit une machine pensante qui se révèlera être le premier ordinateur. Contraint au silence par les services secrets, il fut condamné pour homosexualité, avant de se suicider en croquant une pomme empoisonnée rappelant étrangement un célèbre logo...
Cette pièce a reçu 4 prix aux Molières 2019 :
- Le Molière de Théâtre privé
- Le Molière du metteur en scène pour Tristan Petitgirard
- Le Molière du comédien dans un spectacle de Théâtre privé pour Benoit Solès
- Le Molière de l'auteur francophone vivant pour Benoit Solès
LA PRESSE EN PARLE


Brown Paper Tickets Ticket Widget Loading...

Click Here to visit the Brown Paper Tickets event page.