THÉÂTRE | Vol Au Dessus d'Un Nid de Coucou | MAI 5-6-7-8- 7:30PM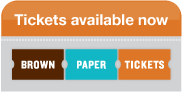 D'après le roman de Ken Kesey

Mise en scène de Frédéric Patto
Assitantes mise en scène : Nancy Saussac et Irina Hieronymus
Avec : Lionel Rougé, Yvette Adida, Nancy Saussac, Grégory Galin, Catherine Sullivan, Thomas Marigne, Carole Neilson, Sophie Laffite
Patrick Mac Murphy, un détenu au passé chargé, se fait volontairement interner dans un hôpital psychiatrique pour échapper à la vie carcérale. Il apprendra vite que les patients, attachants et complices, sont tout comme lui, sous l'emprise de l'infirmière en chef, et de l'impitoyable système médical de l'établissement. S'en suit une lutte de pouvoir, âpre et destructrice, qui bouleversera le quotidien de lhôpital, et prendra définitivement le pas sur l'existence des protagonistes pour les jeter dans la plus violente des issues. Qui en sortira indemne ?


Brown Paper Tickets Ticket Widget Loading...

Click Here to visit the Brown Paper Tickets event page.